Cardboard Tube Grinch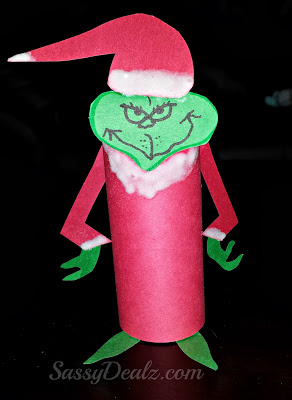 Look out here comes the Cardboard Tube Grinch. But instead of spoiling your Christmas he is here to make everyone smile.
Supplies
Toilet Paper Roll
Green and Red Consttruction Paper
Glue/Tape
Black Marker
White Glitter
Scissors
Instructions
Wrap a piece of red construction paper around the toilet paper roll and glue it.
Sketch a drawing of the Grinch's face. I did the outline of a three leaf clover. Make sure there is a bump on top so ou can glue the red hat to it.
Cut two red arms and two green hands. Just bend the ends of the red arm pieces and glue to the side of the toilet paper roll.
Cut two feet that look like green beans. Then fold the end and tape it to the inside of the toilet paper roll on the bottom.
Glue places where the white shows such as the hat arms, and around his neck. Then sprinkle with white glitter to make it shimmer.
Now you have your Grinch. Maybe he should sit in front of the person who doesn't have a smile on his face. It's sure to make him smile.
Contributor

SassyDealz.com
"Michelle has a teaching degree and for the love of art she started sharing kids crafts on her blog to inspire teachers, parents, and the little ones! SassyDealz.com is not only a craft website, but also a place where you can find online bargains and freebies!"