Cardboard Tube Clown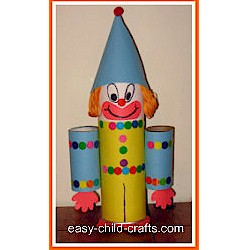 This Cardboard Tube Clown is a great example of what you can do to recycle a Pringles can and a couple of cardboard tubes.
Supplies
One empty Pringles can
Two toilet paper rolls
Colored construction paper
Round stickers
Pom poms
Scissors
Markers
Glue
Embroidery thread for the hair
Instructions
1. Take a look at your Pringles can and decide where you\'ll place the head, body and legs. You might want to plan this out on paper before you start cutting your construction paper. We divided our can into thirds. The top third was covered in white construction paper for the head. The body and legs were made from one piece of yellow construction paper wrapped around and glued to the Pringles can.
2. For the face: With black markers, draw two eyes. For the nose we simply used a round red sticker. The mouth was cut from red construction paper and marked with black marker.
3. For the body: We used stickers to fashion a collar and buttons down the front of the shirt. We drew a black line in the middle of the "pants" to designate legs.
4. For the arms: Take two toilet paper rolls and cover with construction paper. Cut out two hands from a second color of construction paper. Glue to the ends of the toilet roll. Glue each toilet roll to the sides of the Pringles can.
5. For the base: We cut two "giant" feet for the base of the clown and glued them to the bottom of the Pringles can.
6. For the hat: We simply made a cone shaped to fit the top of the can and glued a pom pom to the top!
This craft is reprinted courtesy of Easy Child Crafts where you will find more recycled crafts.
Contributor
Easy Child Crafts
The projects you\'ll find at Easy Child Crafts are created by Susie, Maya and Omri Eshel.  We\'ve got easy craft ideas for kids of all ages with a special emphasis on recycling and using materials you have at home. Omri draws original coloring pages and his work is also featured on our sister site, Easy Coloring Pages