Cardboard Tube Chick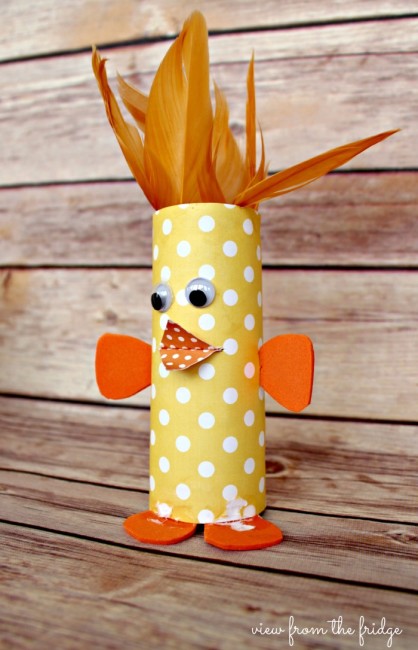 Make a recycled Cardboard Tube Chick to complete your collection of cardboard tube creations. Some manufacturers are eliminating them so enjoy crafting with them while you can before they become a thing of the past.
Supplies
Scrapbook paper in yellow (for body) and orange (for beak)
Orange foam sheet for feet
Feathers
Glue on eyes
Empty TP Roll
Instructions
BODY: Cut yellow scrapbook paper to size, and glue to TP Roll (again, using clothespins on seams to help hold in place)
BEAK: If your orange paper is one sided (pattern on one side only), glue two strips of paper together, unpatterned sides facing. Once glue is dry, fold in half and cut beak shape out of one end (leaving the other end as rectangle to feed through slot in TP Roll tube.
Cut slit the width of your beak in TP Roll. Push rectangle side of beak through slit. Glue in place if needed (ours was tight enough that no glue was needed)
Glue on eyes
FEET AND 'WINGS': Cut shapes out of foam sheet. Glue in place on bottom of tube (feet) and sides (wings).
FEATHERS: Apply glue to top inside of tube. Stick feathers onto glue letting them stick out of the top.
Contributor

View From The Fridge
Katie is the writer and creator of View From The Fridge. She is also the mom to two adorable little boys (and another baby on the way), and wife to a great guy! She loves to craft, decorate, dream up projects for her home, and she's learning to love to cook (though not there quite yet). She started View From The Fridge in the fall of 2013. Katie also enjoys coffee, a good glass of wine or beer (when she's not expecting!), running, and anything outside. She lives in Minnesota and takes full advantage of the wonderful (but short) summer season outside with her family.