Cardboard Tube Caterpiller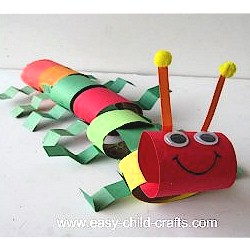 Recycle those cardboard tubes into these cute caterpillers.
Supplies
Two toilet paper rolls
Card stock (we used red, light red, green, light green, yellow, and orange)
Two small yellow pompoms
Two large googly eyes
One black marker
Scissors
Stapler
UHU liquid glue or craft glue
Instructions
1. Cut each toilet paper roll into three rings.

2. Cut strips of different colored card stock the length and width of each toilet paper roll ring. Staple each strip around each ring. You should now have 6 rings in different colors.

3. Line all the rings up, so that the stapled sides are facing down. Take a long strip of card stock, longer than the length of all the rings combined, and insert into the rings. Staple one end of the strip to the inside of the first ring. Staple the other end of the strip to the inside of the last ring.

4. Cut 12 small strips of green card stock, and fold each strip accordion style, as shown in picture. Unfold, and staple to the sides of the rings. These will be the caterpillar's legs.

5. For the head of the caterpillar, take another strip of card stock (we chose red), and staple into a ring so it attaches to the first ring on the caterpillar's body. Use our picture for reference.

6. Cut two thin strips out a different colored card stock (we chose orange), and staple a pompom onto the end of each one. These are your caterpillar's antennae. Next, staple each antenna to the back of your caterpillar's head. Finally, glue the googly eyes into place, and draw a smile using the black marker.
This craft is reprinted courtesy of Easy Child Crafts.com where you will find complete illustrated instructions.
Contributor
Easy Child Crafts
The projects you\'ll find at Easy Child Crafts are created by Susie, Maya and Omri Eshel.  We\'ve got easy craft ideas for kids of all ages with a special emphasis on recycling and using materials you have at home. Omri draws original coloring pages and his work is also featured on our sister site, Easy Coloring Pages