Cardboard Tube Black Cat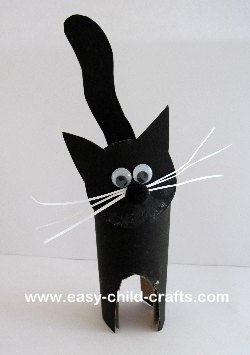 This Cardboard Tube Black Cat craft is a great addition to the cardboard tube creations kids can make and use to decorate for Halloween.
Supplies
Printer
Black construction paper
One toilet paper roll
White construction paper
Googly Eyes
Scissors
Glue
Instructions
1. Cut a strip of black construction paper the length and width of the toilet paper roll and staple it to the toilet paper roll.
2. Cut an opening on each side pf the toilet paper roll (front and back). These create the "legs" of the cat. Use our picture for reference.
3. Using our template, cut out the head and tail of the cat from the black construction paper.
4. Cut thin strips of white construction paper for the whiskers.
5. Glue the face to the front of the toiler paper roll, over the opening that creates the legs. We slightly tilted the head of our cat.
6. Glue the googly eyes, the black pompom (nose), and the whiskers to the face of the cat.
Patterns, Templates and Printables
Click on a pattern to open it in a new window
Contributor
Easy Child Crafts
The projects you\'ll find at Easy Child Crafts are created by Susie, Maya and Omri Eshel.  We\'ve got easy craft ideas for kids of all ages with a special emphasis on recycling and using materials you have at home. Omri draws original coloring pages and his work is also featured on our sister site, Easy Coloring Pages