Cardboard Box House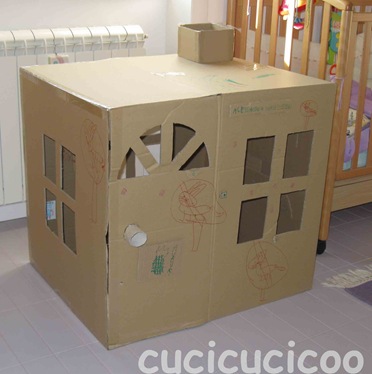 All kids love to play with boxes, sometimes more than the presents that came in them. This project takes that fun one step further and turns it into a Cardboard Box House complete with fancy windows and doors.
Supplies
Large Cardboard Box
Box Cutter*
Transparent Packing Tape
Glue
Crayons, Markers, Colored Pencils or other decorating materials.
Instructions
This year i gave my husband an ikea armchair. He was about to flatten the huge box to put out with the recyclables, but i stopped him. After all, you don't get a box this big every day and I absolutely needed to use it for something or other. Later, playing around, we put my daughter inside, and I thought that we should make a little house out of it.
I put the box on its side and opened the top flaps. There was an extra piece of cardboard the size of the base of the box, so I used transparent packaging tape to attach this piece to three of the top flaps. The fourth flap became the door. My daughter and her cousin helped me plan out where to put the windows and what shape to make them. I cut them out with a box cutter.
it was too hard to open and close the door from inside, so i traced around an empty toilet paper roll, cut out the hole, stuck in the tube and put tons of glue on it.
And i have to give it to alessandro… that chimney looks great and lets in a pretty cool light!
The kids then went at decorating and personalizing the house.There's the sign with their names. The doorbell. The signs prohibiting the cat from going in (she just couldn't resist scratching up the house's floor). The pictures hung on the wall. All sorts of pictures and stamps directly on the walls.
I really loved this project, and I still do. Not just because the kids had something new to play with and they, and all the other kids who come by our place, play with it for hours on end, filling it with dolls, toys, furniture, food, etc. hiding inside. Organizing birthday parties for stuffed animals inside. Not just because they actively participated in building it, using their own creativity and problem solving skills. not just because they learned how satisfying it is to make something out of "nothing." not just because we had so much fun making it without spending a cent.
But because we worked on it together and created something unique that can't be duplicated by a plastic store bought playhouse.
Contributor
Cucicucicoo: Eco Sewing and Crafting
Cucicucicoo: Eco Sewing & Crafting proposes all sorts of DIY projects to creative minds of all ages who love to make things without harming the environment. Repurposing materials is a great way to save the Earth while expressing yourself though all types of creative means! Come check out the tutorials for kids and adults at Cucicucicoo.com!