Can of Worms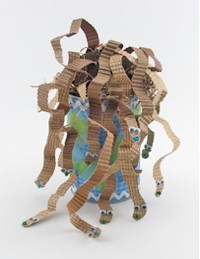 The worms are out of the can! This cute (gross) decorative Can of Worms disguise for your air freshener will delight party goers. Be creative with your colors and materials to fit the occasion.
Supplies
The Dial Corporation Renuzit® LongLast® Adjustable Air Freshener*
One clean tin can, 3 1/4" diameter x 5 3/4" high
3" Foam Balls
Scrapbook paper, 12" x 12": One sheet each,
Natural burlap print
Brown/tan fabric print
Tan Mottled
Brown Mottled
Blue Gingham
Blue/green block print
Acrylic paint*: Lamp (Ebony) Black, Milk Chocolate
22" length white, medium (1/2" wide) rick rack
Twenty-four 7mm wiggle eyes
Transparent Round Beads: Six 4mm blue; six 4mm green
Paper Edgers: Ripple pattern
Paper Crimpers
Tan colored paper crimps
MISCELLANEOUS ITEMS:
Craft glue; craft glue dots; paint brush; sea sponge; serrated knife; ruler; scissors; pencil
Instructions
CAN: For can wrap, cut a 5 1/2" x 11" piece from gingham paper. Wrap paper around can and adhere with glue dots. From block print paper, using paper edgers, cut ten 1 3/4" squares. Glue squares at angles and overlapping, around can. Let dry. Cut rick rack into two equal pieces and glue one piece around top of can and remaining piece around bottom of can. Let dry.
MOUND OF DIRT: Ask an adult to use serrated knife to cut a 1 1/2" diameter circle from bottom of foam ball and discard small piece of foam. Using three glue dots, attach flat side of foam ball to top of Renuzit® Air Freshener. Paint foam ball with Milk Chocolate. Let dry. Lightly sponge Lamp Black paint onto foam ball to resemble dirt. Let dry.
WORMS: Cut the burlap, fabric-print, and two mottled sheets of paper in half and set aside one piece of each sheet for another project. With back sides together, glue one piece of mottled paper to the back of each of the burlap and fabric-print papers. Let dry. Use paper crimpers to crimp each set of papers. From each set of papers, cut six wavy strips (lengthwise) varying in width from 1/2" to 5/8". On one end of each strip, use scissors to round the end, forming the heads of the worms.
For nose, glue one bead to rounded end of each strip.
Glue two wiggle eyes to each strip above nose. Let dry.
Ask an adult to use serrated knife to make twelve slits in mound of dirt (foam ball). Apply glue to end of each paper strip and use pencil to press a strip into each slit. Let dry.
FINISH: Place paper crimps around top of can. Open Renuzit® Air Freshener and place Worms into can. Bend and arrange worms as desired.
®2006 The Dial Corporation.
Contributor

Renuzit