Mini Button Wreath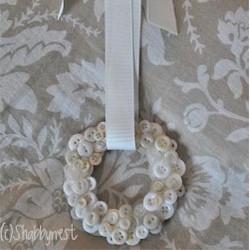 Before you take those old worn out blouses to the clothing bin (they sell them as rags even if they aren't wearable) remove the buttons for this cute button craft project. It makes a unique package decoration.
Supplies
Lightweight cardboard (I like to collect this so I have it around for various projects...things like the cardboard that comes in folded shirts, large tags from clothing etc.)
Scrapbook paper (ideally this should be the color of the buttons you will be using.)
Two glasses (or other round objects) one smaller than the other.
Pencil
Scissors
Stick glue
Hot glue gun
Hot glue sticks (I went through about 2 of these)
Buttons (lots - I used about 80 or so for my small wreath) I like white vintage buttons best, but you could use any color and you can buy them new - of course.
Ribbon
Instructions
Using the stick glue, start by gluing the scrapbook paper to the cardboard. Remember, stick glue is your friend...be very generous.
Using a pencil, trace the rims of the glasses onto the paper. The larger glass outside and the smaller glass inside to create a wreath form.
Cut out the wreath form. If you're the perfectionist-type you can gently sand the edges so they are smooth (using a sanding block), but keep in mind that they will be 90% hidden by the buttons.
Now comes the fun part. Gather your buttons. I like to sort them into sizes before I get started gluing...makes the whole gluing process a little easier.
Start by gluing a layer of large buttons to the form.
Now glue a layer of slightly smaller buttons on top of the larger ones, staggering them to cover the spaces between the larger buttons.
NOTE: I like to play around with where I will put the buttons because I want to vary the shades of the buttons...especially when using white buttons, because it creates more texture and interest.
Continue gluing on buttons using smaller buttons each layer, and filling in the blank open spaces. This will create a rounded effect. Then I go back and add smaller buttons to the empty spaces left on the edge between the large buttons in the first layer. (That description is about as clear as mud, but hopefully, you get what I mean.)
And that's it! Loop a pretty length of grosgrain ribbon around the top and tie with a bow...then hang it somewhere that will make you smile when you look at it.
Contributor
FaveCrafts.com
FaveCrafts is owned by Prime Publishing LLC, an Internet Media Company that operates web site communities, e-mail newsletters and e-commerce stores in niche areas such as crafting, home décor, wellness, and cooking. See their craft projects at https://www.favecrafts.com/