Button Bunnies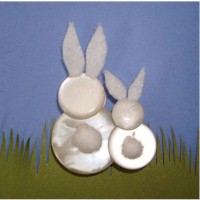 This craft is reprinted courtesy of Heidi Borchers for Inspired at Home.
Before you throw away an old blouse, remove the buttons and maybe you will be able to find just the right ones for these adorable Button Bunnies.
Supplies
Buttons – 1 large, 2 medium and 1 small (white, pink or other springtime color)
Aleene's® Platinum Bond 7800 Glue
Pom poms – white
Felt – white
Scissors
Wire cutters
Instructions
If needed, cut shanks off buttons with wire cutters.
 
Using photo as guide, glue buttons together to form shape of bunnies. Glue pom poms in place.
 
Cut ears from felt and glue in place. Let all glue dry completely.
 
To use as pin, glue pin back to back side. Let glue dry completely.
Heidi's Tips: If you don't have pom poms, pull the tip off a cotton swab, roll it in your hand to reform a ball and voila – a perfect bunny tail!
Contributor

Heidi Borchers for inspiredathome.com
Heidi Borchers hails from the first family of crafting. As daughter of Aleene Jackson, inventor of Aleene's Tacky Glue, Heidi's creative design projects have delighted worldwide crafters for over 30 years. Heidi's specialty is eco-crafting and she is the author of hundreds of craft books. She is co-host of Inspired at Home Radio, a live weekly talk-radio show featuring ideas for living a creative life. www.inspiredathome.com