Busy Bee Pot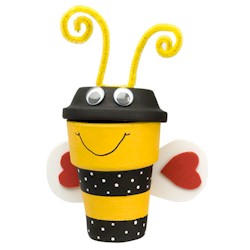 This cute little busy bee will make everybody smile as it sits on your shelf or on the deck He's fun to make too.
Supplies
Americana Acrylics
  DAO1 - Snow (Titanium) White
  DAO67 - Lamp (Ebony) Black
  DA201 - Primary Yellow
Foam sheets: white and red
3" clay saucer
15-mm wiggle eyes
2 1/2" rose pot
Yellow chenille stem
Scissors
Low-temp glue gun and glue sticks
#12 flat brush
Tracing and transfer paper
Stylus or pen
Fine point permanent black marking pen
Pattern
Instructions

Paint pot and saucer Primary Yellow.
 
Use #12 flat brush and Lamp Black to stripe body.
 
Use marker to paint mouth.
 
Trace and transfer wing shape on white foam and hearts on red foam. Use scissors to cut out shapes. Position and adhere to pot.
 
Position and adhere wiggle eyes and chenille stem for antennae.
  
Use brush handle and Snow White to add dots to Lamp Black stripes.
NOTE: Let dry between steps.
This craft is reprinted courtesy of FaveCrafts.com.

Contributor
FaveCrafts.com
FaveCrafts is owned by Prime Publishing LLC, an Internet Media Company that operates web site communities, e-mail newsletters and e-commerce stores in niche areas such as crafting, home décor, wellness, and cooking. See their craft projects at https://www.favecrafts.com/