Bunny Snack Cups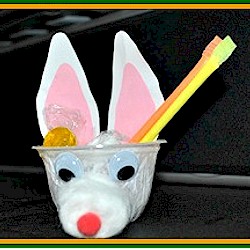 Have the kids help you make these cute Bunny Cups for classroom treats or a leave behind goody for the Easter Bunny.
Supplies
White tissue paper
Pink and white paper
Empty fruit cup
Googly eyes
Cotton ball
Red small pom pom
Glue
Water
Scissors
Instructions
Step #1:
Cut your tissue paper into a bunch of squares.
Make these around one inch square, but it does not have to be exact measurements.
Fill a bowl with a mixture for paper mache. This is half and half - water and glue.
Step #2:
Dip a piece of tissue paper into the glue/water mixture and place it on the fruit cup.
Repeat this until the entire cup is covered.
Add a second layer to make it less see-through and more white.
Set this aside to dry.

Step #3:
Next is our ears.
Cut out two ear shapes, that will fit nicely with the size of the fruit cup.
Add pink in the centers.
If you want to write Happy Easter on them, now's the time!

Step #4:
Once the cup is dry, glue your cotton ball on one side of it.
Add the red pom pom to the center of the cotton ball.

Step #5:
Glue your googly eyes just above the nose you just created.

Step #6
Glue your ears on the opposite side of the bunny's face.
Glue then on the inside of the cup - they will stick better here.
Fill it up with goodies or carrots and your all ready to give your treat cup to a friend, family member or the Easter Bunny!
This craft is reprinted courtesy of Easy Crafts For Kids where you will find complete illustrated instructions.
Contributor

Easy Crafts For Kids
Join the Crafty Critters over at easy-crafts-for-kids.com for tons of easy crafts with simple step by step instructions. Stop by and meet the critters!