Bookworm Buddy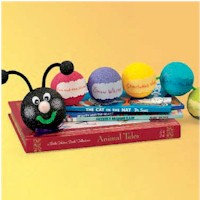 As your child finishes a book, the Bookworm Buddy grows with a new ball for his body. Pick a different color for each segment. Parents can help print book titles on each body segment or pin cardstock with book titles.
Books you might like to read with your kids:
Goodnight Moon by Margaret Wise Brown and Clement Hurd
The Very Hungry Caterpillar by Eric Carle
Where the Wild Things Are by Maurice Sendak
Supplies
STYROFOAM* Brand Foam:
Balls: 3", one (head); 2-1/2", one for each book read (body); 3/4", two (antennae)
Disc, 6"
Acrylic paints, assorted bright colors
Purple chenille stems, three or more
3/4" wiggle eyes, two
1/2" pink pompom, one
Felt scraps, assorted colors
Ribbon (for bow)
Toothpicks
Paper Plate
Medium flat paintbrush
Water basin
Paper towels
Ruler
Wire cutters
Scissors
Serrated knife
Cardstock, and black marking pen (optional)
Thick, white craft glue
Instructions
To make your Bookworm Buddy, insert a toothpick into each foam ball to use as a handle while painting, paint each ball the desired color and pick into disc to dry.
Attach head and body foam balls with chenille stem couplings. To make couplings, cut chenille stem into 1-1/2" lengths and bend each in a U shape. Dip the ends of one U-shape chenille stem into glue; press the ends into back of 3" head ball, leaving a small loop protruding. Hook a second U-shape chenille stem onto this loop, dip the ends into glue, and then press them into the first 2-1/2" body segment ball. Repeat to connect the remaining body segments. If desired, shape soft, natural curves in bookworm's extended body.
Glue wiggle eyes to front of head with a pink pompom nose centered in between. Cut a smiling mouth from felt and glue to head. Add other felt facial features as desired. Glue hat to top of head.
Cut two 3"- 4" chenille stem lengths. Insert and glue one end of each stem in a 3/4" ball and opposite end into head on either side of hat, forming the antennae.
Continue to add a 2-1/2" ball to worm for each book child reads. Optional: Paint book titles on each body segment or pin on small pieces of cardstock with titles printed on them.
Contributor
FaveCrafts.com
FaveCrafts is owned by Prime Publishing LLC, an Internet Media Company that operates web site communities, e-mail newsletters and e-commerce stores in niche areas such as crafting, home décor, wellness, and cooking. See their craft projects at https://www.favecrafts.com/