Birdhouse Decoration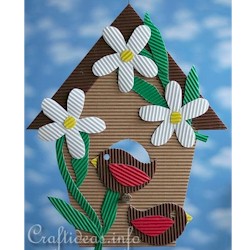 The kids will have fun making this birdhouse decoration and take great delight in seeing it hanging on their walls.
Supplies
Corrugated cardboard in the colors of light brown, dark brown, red, yellow, white and green
Glue
Scissors
Hole puncher (to punch out the birds' eyes)
Cereal box (to create permanent and stable templates)
Needle and thread for hanging
Instructions
Click on Printables and print out the Birdhouse Pattern to fit the full size of your printer paper. Glue the pattern page then to the back of a cereal box and cut all of the pieces out. Now you have stable templates that make it so much easier to trace around.
1. Trace the birdhouse onto the backside of the tan light brown corrugated cardboard and cut out.

2. Trace one roof piece and two birds to the backside of the dark brown corrugated cardboard and cut out.

3. Trace two wing pieces on the backside of the red corrugated cardboard and cut out.

4. Trace two bird beaks and three flower centers on the backside of yellow corrugated cardboard and cut out.

5. Trace two stems and six leaves on the backside of green corrugated cardboard and cut out.

6. Cut a small strip about 7 mm in width and about 3-5 cm long and roll up. Glue the end and then set aside. This will be the perch of the bird house.

7. Use the picture as reference and glue the pieces onto the birdhouse. Start off by gluing the roof onto the house.

8. Cut out the hole in the center of the birdhouse.

9. Then glue the leaves and stems onto the birdhouse. Then follow with the flowers and birds.

10. When finished, glue the perch under the birdhouse hole.

11. Poke a small hole in the top center of the birdhouse and then use thread to hang it.
This craft is reprinted courtesy of Craftideas.info where you will find lots of great craft projects.
Patterns, Templates and Printables
Click on a pattern to open it in a new window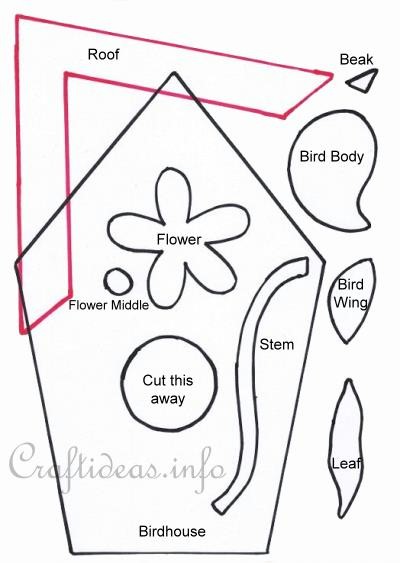 Contributor

Craftideas.info
On Craftideas.info you will find hundreds of free craft projects for all seasons of the year, free craft templates for the projects and over one hundred step-by-step picture tutorials. New crafts, patterns and tutorials are being added regularily!