BFF Bag Tags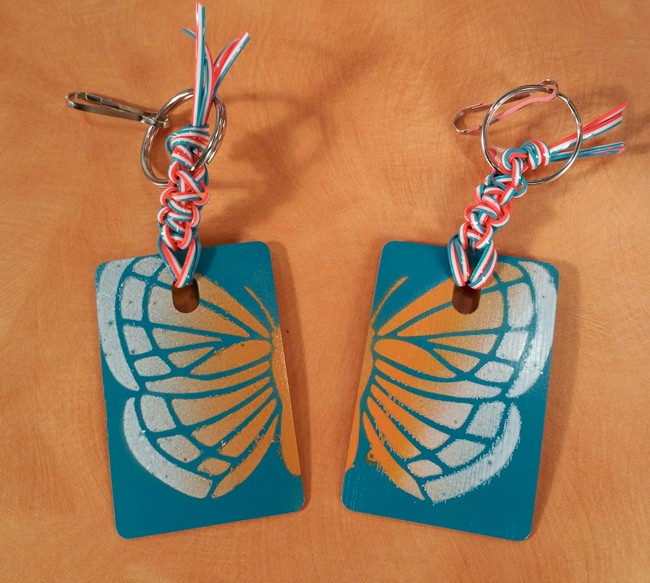 What better way to show that you are special friends. These BFF Bag Tags say it all. Whether you are away on vacation or in different schools these special tags make you feel close. This is a project for the older crafter
Supplies
Airbrush kit with 3 colors of paint
Laminate chips from the hardware store
Symmetrical stencil (adhesive ones work best)
Painter's tape
Plastic lacing
Lanyard hooks or split rings
Instructions
Protect your surface with cardboard or paper. Place two laminate chips upside down, lining them up. Place painter's tape across them so they stay together.
Flip over and coat with 2 coats of airbrush. Use light, quick strokes and don't let the paint puddle. Let dry completely between coats.
With your 2 pieces still joined, place your adhesive stencil in the MIDDLE of both. Press down gently with your fingers. Use painters tape to cover any area that you want to keep the background color.
Using your first color, paint the middle of the stenciled area.
Switching to your second color paint the OUTSIDE of the stenciled area, creating an ombré effect between the two colors.
Remove the stencil carefully; let dry completely.
Further embellish with stick-on gems if desired, or write your initial!
Separate the tags and discard the tape. Using two pieces of plastic lacing 12 inches long, thread both through the hole in one of the chips. Tie an overhand knot.
Using a macramé knot of your choice (I like the square knot) create a short lanyard. Before tying a half knot, add a split ring.
Note: You could adapt this to a simpler project for younger kids using cardboard and paintbrushes
Contributor
HANDS ON Crafts for Kids
Remember what we all say at Hands On Crafts for Kids, "there's no right or wrong way to crafting…only our way!" We hope that you will join us for Hands On Crafts for Kids – Back to Basics.
Supplies
Instructions
Contributor

Sudbudz
Want to have some creative family time? Print out our SudBudz® Masks and get crafty with the kiddos! More than just a typical Fizzy Bath Ball, SudPrize® is a first ever line of skin-loving and natural bath products that make bath time Fun for Kids and Easy for Moms. A Free companion App, SudBudz® engages your children into an immersive world of special and unique characters called SudBudz®.