Bead Mosaic for Mardi Gras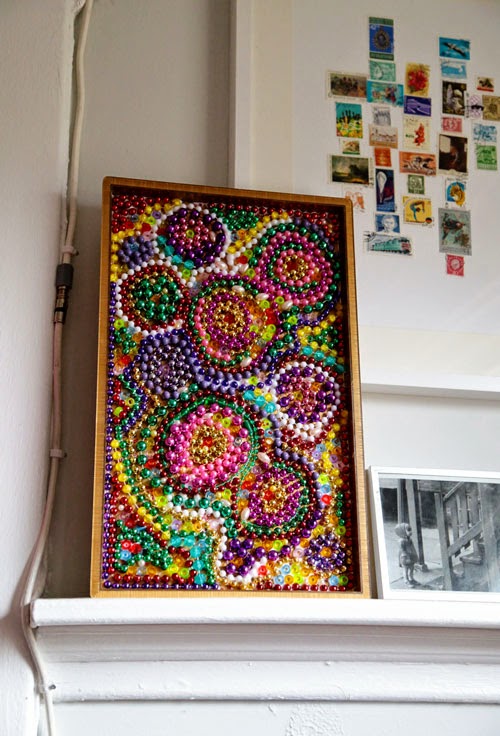 Make this Bead Mosaic for Mardi Gras with colorful strands of beads thrown by admiring on-lookers or more likely purchased at the dollar store. Each mosaic will be unique as defined by the length and color of the strands of beads.
Supplies
Turbo Tacky Glue
Frame with backing or Tray or plate with rimmed edges
Beads, necklaces, plastic garlands ( I suggest a mix of both loose beads and strands)
Instructions
1. Pour a generous amount of Tacky Glue in the tray.
2. Spread the glue using a scrap of cardboard or a plastic knife.
3. Use short strands of beads to create small spirals in the center portions of the tray.
4. Encircle each spiral with more beads, building in circles as you go.
Working in symmetrical circles is fine, but things get more interesting when you add a few stray beads here and there. Eventually each cluster will bump into the other and you can fill the gaps with more beads. Here I used a mix of pony beads and pearls, then sprinkled everything with a handful of seed beads for extra texture and sparkle.
In about ten minutes you'll have a one-of-a-kind work of art. Let the glue cure overnight (it dried clear) and display proudly!
Contributor

ILoveToCreate.com
Where you can explore and share, crafters can play and artists can grow!