Bead and Pipe Cleaner Dragonfly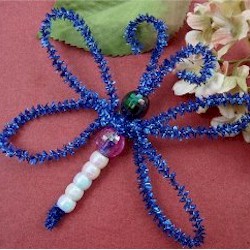 This pretty dragonfly takes just a couple of beads and some pipe cleaners and can be made into a magnet, a pin, or a package decoration.
Supplies
3 pipe cleaners
2 large beads
5 small beads
Instructions
Make the wings:  Fold a pipecleaner in half, and twist the ends together, with about 3/4 of an inch extending.
Bring the point of the fold to the twisted area, and twist again to form a figure "8".
Make another set of wings for the other side.
For the body, fold the last pipe cleaner in half, slide the beads on, and fold up the bottom of the pipe cleaner so the beads won't fall off. Coil the two tops of the pipecleaner to form antennae.
Twist the ends of the wings onto the body to secure.
This craft is reprinted courtesy of CraftBits.com where you will find crafts and projects for all ages.
Contributor

CraftBits
Our website was created by a mother and daughter team, adding a unique combination of crafting qualities and expertise of creativity. We started our website after numerous years in the area of craft, teaching, retail craft and owning a gift store. We decided to launch it to provide resources for teachers, therapists, and craft enthusiasts in the year 1999. Since then, the website has grown tremendously in terms of content and resource information.