Bat Wind Chime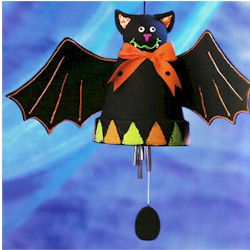 Halloween is one of the most popular holidays. Here's another great idea that will make your decorating spooktackular.
Supplies
Aleene's® Super Thick Tacky Glue™
Drill with 1/8" drill bit
2" diameter wooden ball
4-1/4" diameter clay pot
Acrylic paint: black, orange, lime
Paintbrush
Pop-up craft sponge
Waxed paper
Dimensional paint: white, black, pink, green, orange
Small wind chimes
Black craft foam
9" (5/8" wide) orange ribbon
Pattern
Instructions
This project is suited for older kids who need supervision or assistance with some of the processes.
Drill hole through wooden ball. Paint ball and clay pot black. Let dry. Click on Printables and print out pattern. Transfer triangle pattern to pop-up sponge and cut 2. Dip each into water to expand and wring out excess water. Pour separate puddles of orange and lime paints onto waxed paper. Dip each sponge into 1 color of paint and blot excess paint on side of waxed paper. Continue to blot until color is evenly distributed on sponge. Do not oversaturate the sponge. Press sponge on rim of pot and lift. Alternate colors. Let design dry. Wash sponge throughly and store for future use.
Paint facial features on wooden ball with dimensional paints. Let dry.
Apply glue to top of windchimes. Working from inside pot, thread wind chimes hanger through hole in bottom of pot. Pull wind chimes up to pot and glue in place. Let dry. Thread wind chimes hanger through hole in wooden ball head, working from bottom to top and pushing head down onto pot bottom. Glue head in place on pot. Let dry.
Transfer patterns to foam and cut 1 wings and 2 ears. Trim bottom edge of each ears to fit curve of head. Glue ears in place on head. Let dry. Referring to photo, paint inner ears and details on wings with orange dimensional paint. Let dry. Glue wings to back of pot. Tie ribbon into bow. Glue bow to front of pot, just below head. Let dry.
Heidi's designer tip: Practice stamping design on side of waxed paper several times before stamping onto pot. If your design doesn't stamp in its entirety on bag, simply load sponge with paint again, re-align stamp and re-stamp design. Also, remember when using dimensional paint that you continue to shake the bottle contents down to avoid air bubbles while applying..
Patterns, Templates and Printables
Click on a pattern to open it in a new window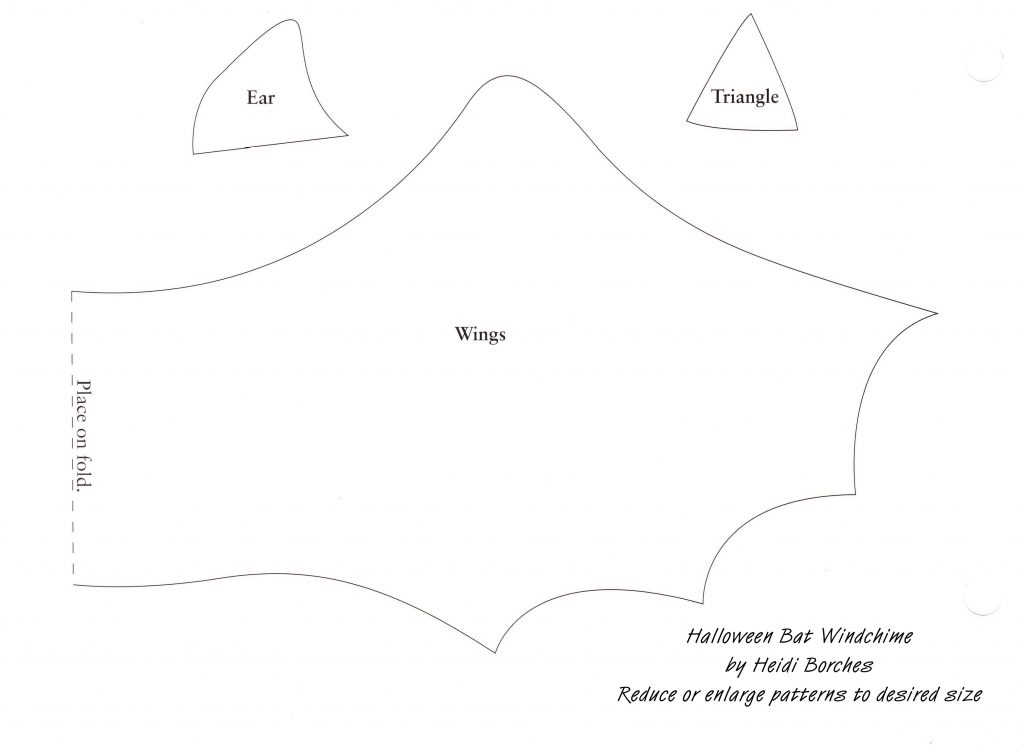 Contributor

Heidi Borchers for inspiredathome.com
Heidi Borchers hails from the first family of crafting. As daughter of Aleene Jackson, inventor of Aleene's Tacky Glue, Heidi's creative design projects have delighted worldwide crafters for over 30 years. Heidi's specialty is eco-crafting and she is the author of hundreds of craft books. She is co-host of Inspired at Home Radio, a live weekly talk-radio show featuring ideas for living a creative life. www.inspiredathome.com