Ballerina Plant Stick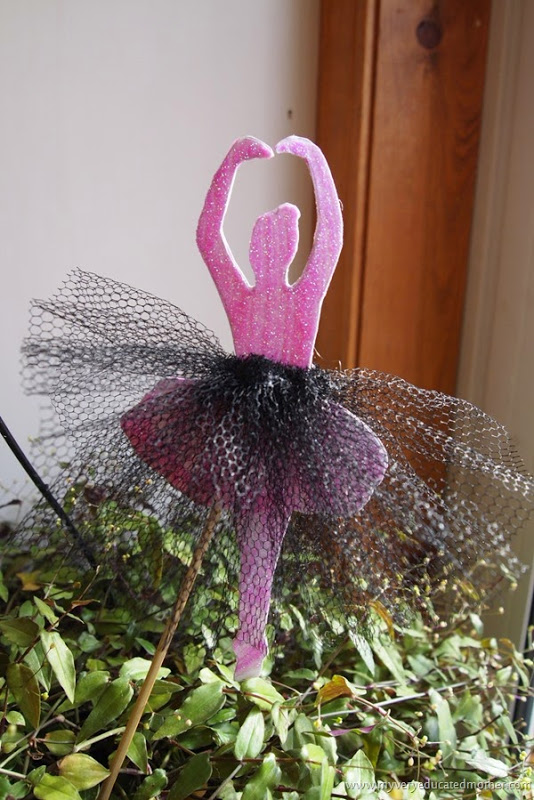 The dancer in your house will love making this Ballerina Plant Stick. It can also be adapted as a package decoration or a 3-D element for your poster advertising the next dance recital.
Here are some books you might like to read with your ballerina:
      Fancy Nancy: Budding Ballerina by Jane O'Connor and Robin Preiss Glasser
     Angelina Ballerina Katharine Holabird (Author), Helen Craig (Illustrator)
 
   Belinda, the Ballerina by Amy Young
Supplies
Ballerina silhouette
Card Stock
Tulle
Scissors
Mod Podge
Foam Brush
Colored Glitter
Skewer
Hot Glue
Instructions
Find a Ballerina Silhouette by googling Ballerina art and trace onto your card stock. Then cut out.
Brush with mod podge and springle with glitter while still wet.
Cut a small strip of tulle and gather at one of the long ends and glue to the silhouette using the picture as a reference.
Hot glue a skewer to the back if you are using it as a plant stick.
Contributor

My Very Educated Mother
Erin Sipes is a writer, crafter, and homeschooling mother of (soon-to-be) four based in rural Missouri. She is also the voice behind My Very Educated Mother, a blog dedicated to advocating the benefits of a creative home by sharing kids crafts and family-friendly recipes, as well as encouraging self-reliance, recycling, and responsible consumerism.