Backpack Octopus With Beads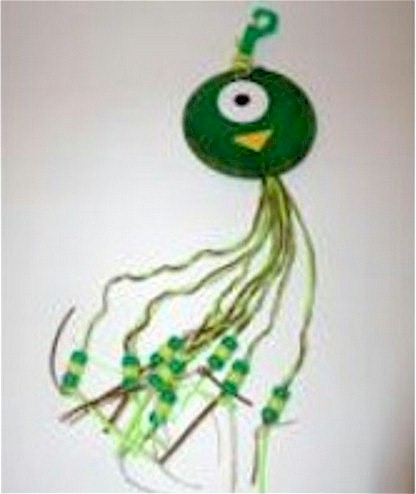 Make this cute little Backpack Octopus With Beads to hang merrily from your backpack and make everyone smile. This is also a fun craft for Submerged VBS.
Supplies
Elmer's® Paintastics®, Green, Yellow
Elmer's® Painters® Opaque Paint Markers, White, Black
Elmer's® 3D™ Washable Paint Pens Glitter , Gold
Elmer's® Craft Bond™ Tacky glue
3" round wood disc
1 ¼" wood shape, small wood triangle
Pepperell® Crafts Rex Lace- Apple Green,Medium Brown, Gold Sparkle
Pepperell® Stretch Magic® Beading Cord
Pony beads- eight yellow, sixteen green
Swivel Clip
Super Sticky tape
Scissors
Drill and 1/8"' drill bit *
*To be used by a responsible adult.
Instructions
Paint wood shapes. Paint large disc green. Use multiple coats in random areas on disc to create a sea life look. Paint triangle yellow. Paint small disc white with black eye ball in center. Use glitter pen to line edges of large disc.
Cut each color of lace to eight 8" lengths. Clip bottom to secure with an office clip or clipboard if desired and braid together. Slip pony beads on ends and tie two of the ends to secure. Repeat for all eight tentacles.
Glue wood shapes together with Tacky Glue.
Drill hole at top of disc and attach swivel clip.
Cut stretch cord to 10." Bundle tentacles together and tie with cord to create one bundle. Attach to back of disc with super sticky tape. Clip to back pack.
This craft was designed by Melony Bradley and is reprinted courtesy of HandsOnCraftsForKids.
Contributor
HANDS ON Crafts for Kids
Remember what we all say at Hands On Crafts for Kids, "there's no right or wrong way to crafting…only our way!" We hope that you will join us for Hands On Crafts for Kids – Back to Basics.