Apple Gift Boxes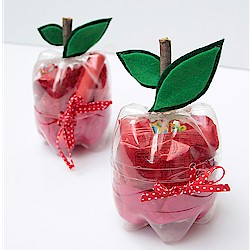 You can use these apple boxes to hold treats or even a small gift especially for your favorite teacher. Adjust their height depending on what you'll place inside. A perfect little surprise for Rosh HaShana, or any party. And they're quick to make, so you can whip up a whole bunch. This craft requires adult supervision, but the kids will enjoy stuffing the "boxes" with special surprises.
Supplies
Plastic soda bottles with bottoms that look like apples, mine are seltzer bottles
Pieces of real sticks
Red fabric or red tissue paper
Rreen felt in two shades of green
Ribbon
Hole punch
Hot glue gun
Instructions
Cut the bottoms off of two plastic bottles using a sharp knife to make the first cut and then scissors.trim bottles to desired height.

Cut a piece of stick to about 1 1/2", and using hot glue affix to top of apple
Using a heavy duty hold punch, punch corresponding holes in both top and bottom at the front and back of apple. The back set of holes will be used to make a hinge, while the front set of holes is tied with a bow for opening the apple. You can choose to make your closures with either four holes or two holes.

Wrap your gift or treats in fabric or paper, and place inside, or alternatively, glue fabric loosely to the inside of your apple, and insert gift, which will result in a more re-usable container!

Tie apple closed with ribbon, and make leaves from felt and glue to stem with a hot glue gun.

Hide your bushel of apples in a secret place until it's time for the surprise!
This craft is reprinted courtesy of Creative Jewish Mom where you will find great ideas for all of the Jewish Holidays and more.
Contributor

CreativeJewishMom.com
Visit me at CreativeJewishMom.com. on the exciting journey of giving greater meaning to the everyday through creativity. This blog is my way of sharing with you the joys of crafting, decorating, cooking, and gardening. I love simple ideas, recycling and quick transformations.