All A-Quiver Caterpillar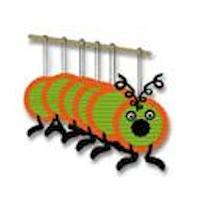 Everybody is making butterflies, but why not give the caterpiller some attention too! Our All A-Quiver Caterpillar loves to wiggle in the wind and make little faces light up.
Supplies
Black chenille stems
Cardstock -- black, lime green, orange, yellow
Glue
Small 12"" dowel rod
String
Wiggle eyes
FISKARS® for kids No. 5 Blunt-tip Scissors
Books you might want to read with this craft:
The Very Hungry Caterpillar
by Eric Carle
From Caterpillar to Butterfly by Deborah Heiligman and Bari Weissman
Charlie the Caterpillar by Dom Deluise and Christopher Santoro
Clara Caterpillar by Pamela Duncan Edwards and Henry Cole
Instructions
Cut six 4" circles from orange paper. Edge circles using Volcano Paper Edgers.
Cut six 3" circles from green and yellow paper.
Cut one 1-1/2" circle from black paper. Edge circle using Volcano Paper Edgers.
Create a foot pattern and trace 12 times on black paper, cut out.
Glue two feet on each green circle. Glue green circles on orange circles. Glue yellow circles on the other side of orange circles.
Run body pieces through Paper Crimper so that the end with the feet goes through last.
Glue wiggle eyes on one body piece.
Glue small black circle (nose) on same body piece as eyes.
Wrap chenille stem around finger or pencil to curl. Glue on face.
Punch a hole at the top of each body piece. Run 12" of string through each hole. Attach to dowel rod.
Contributor

FISKARS
You can read creative and compelling articles by industry experts and get great new project ideas in the areas of home decorating, kids crafts, party invitations, scrapbooking, sewing, quilting, and more! In addition, fiskarscrafts.com will feature how-to videos on some of Fiskars' coolest products, offer live online customer service, and have a crafting message board.