Advent Activities Box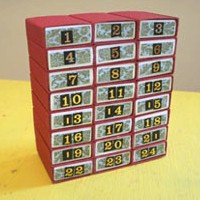 Fill this Advent Activities Box with treats or special activities so kids can count down the days til Christmas.
Supplies
A lot of match boxes
Strong glue
Spray paint
Colourful paper
Numerical stickers
Advent activities, sweets or trinkets to put inside
Instructions
Glue together 24 matchboxes to form a bank of drawers....and then glued small rectangles of colourful paper to the match box drawers.
Number the drawers and pop your advent activities inside each of them.
Following are a few ideas to get you thinking about what activities you might like to include in your calendar. A smart way to plan your advent calendar is to pull out your diary and include pre-scheduled events and activities (such as 'go to the school Christmas concert') in your advent calendar so that you don't wind up with too much to do on any given day.
You will find all these advent ideas and more along with a printable list of advent activities and numbers in Christmas Craft – the new Kids Craft Weekly printable book.
Paint everybody's toenails in Christmas colours.
Make Christmas cards.
Make Christmas ornaments.
Set up the Christmas tree.
Make gift tags.
Bake Christmas cookies and decorate them.
Purchase a present to give to charity.
Have a picnic for dinner.
Go out to look at Christmas lights after dark.
Write a letter to Santa.
Make gifts for teachers.
Hold a family disco.
Go out somewhere special for dinner.
Eat fancy ice creams after dinner.
Watch a Christmas movie before bed.
Contributor

kids craft weekly
Each issue of Kids Craft Weekly outlines a selection of activities for young kids. The ideas in are intended to be cheap, educational and fun and can be used as suggested, or simply as a starting point from which you can develop your own plan of attack.