3-D Butterfly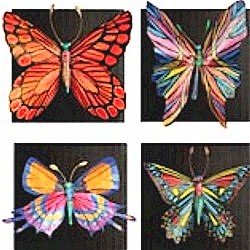 Betterflies are beutiful. You can create your own butterflies using this 3-D method and decorate your room with magnificent color.
Supplies
Acrylic

Paint Brushes

Scissors
Pencil
Tacky Glue
Cardboard
Wire
Permanent Black Marker

Instructions
Cut a 9x12" piece of Multi-Media Paper into quarters. Fold one quarter in half and draw a "top" wing. Turn the folded paper over and hold it up to a window and trace the wing, unfold the paper and go over the lines with permanent black marker. Repeat Step 1 to make the "bottom" wing.

Using the Watercolor Pencils, color the butterfly wings. Next, wet a paint brush and create washes with the watercolor pencil and wet paint brush. Cut out the wings with scissors.

Cut out a few small pieces of cardboard or foam board and glue them together. Next, glue the cardboard to the 5x5" Foam Board Square base. Once the small piece of cardboard has dried in place, glue the wings to it so the wings stand off of the square base.

Take two pieces of thin wire (approximately 4" long) and twist 2/3 of it together. Next, sculpt a Cloud Clay butterfly body and add details. To complete the body, use Cloud Clay to add antennae to the top of the wire. Allow Cloud Clay to dry and paint with acrylic paint (if desired).

Glue the butterfly body to the wings and then stick the pin through the body into the cardboard. Brush on glitter glaze accents and allow it to dry.
This  project is reproduced by United Art and Education.
Contributor

United Art & Education
United Art & Education offers over 150 Free Project ideas for the art classroom or at home.  Discover a unique selection of products that make learning creative and fun! Choose from teaching resources and decorations, early learning items, and a range of art materials for art educators and students, plus some great gifts.