Capering Critters Hand Puppets
Puppets are fun to make and provide hours of inventive playtime for kids after the craft project is completed. Let kids mix and match with these fun and colorful characters and create their own imaginary critters.
Supplies
STYROFOAM* Brand Products:
1- 3-7/8" egg
1- 1 1/2" ball for large eyes (green puppet)
1- 1" ball for small eyes (red puppet)
Foamies (we used red, purple, green, blue, white, black)
Colored paper
Additional embellishments: buttons, rick rack, sequins, ribbons, glitter, etc.
Serrated knife
Acrylic craft paint (we used red and green)
1" firm brush
Wooden skewer
Glass or can (to hold skewer upright while puppet dries)
12" Chenille stem (one stem per puppet)
Thick, white craft glue
Instructions
Cut the foam eggs and balls in half using the serrated knife. (Hint: For smoother cuts, wax the knife blade with an old candle.)

The half balls will be the eyes; experiment with the placement of the eyes, as you can get very different looks according to the placement. Glue the half balls to the wide end of the egg.

Insert a wooden skewer into the puppet; this will serve as your handle while you paint the puppet. Paint the puppet. Place the skewer into the glass or can while paint dries.

Cut the chenille stem into two, 6" pieces. Measuring in 1 1/2" from each end, bend ends to make a "U" shape. Spread a small amount of glue on each end and push the ends into the bottom of the egg, placing the handles approximately 1 1/2" apart. You will put your hand through these chenille handles when you work the puppet.

Following the photo, decorate your puppet to make it a "real" character. Or, have fun creating your own wild and wooly personality.
This craft is designed by Kathleen George and is reprinted courtesy of the Dow Corporation makers of Styrofoam Brand products.
Listed under:
Dragon and Dinosaur Crafts, Early Elementary Craft, More Boys Crafts, Puppet Crafts
Tagged as: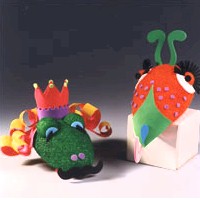 Contributor
Everyday Dishes & DIY
Everyday Dishes & DIY (formerly Cherylstyle) is an online lifestyle media company stirring up dependable recipes and crafts for the everyday family. We collaborate, develop, test and re-test all original content in-house, working out the kinks so you don't have to! Everydaydishes.com publishes new recipes, diy projects, craft ideas and videos daily.
You might also be interested in