Beaded Penguin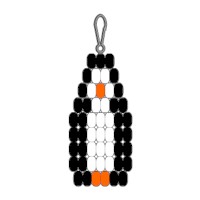 Supplies
31 Black Pony Beads
18 White Pony Beads
3 Orange Pony Beads
1-1/2 Yards of Satin Cord
1 Lanyard Hook
Instructions
Fold your ribbon in half to find the center. Use a half hitch (see patterns for details) to secure it to lanyard hook.
Lace beads using pattern below as a guide.
Finish by tying off with a double knot.
Contributor

Terri Bose of MakingFriends.com
Terri is the creator of makingfriends.com, freekidscrafts.com, scoutswaps.com and badginabag.com. Her work is republished all over the internet and is considered the queen of kids crafts.
Newsletter
Subscribe to our free newsletter to get creative crafts mailed to your inbox.