Woven Flower Basket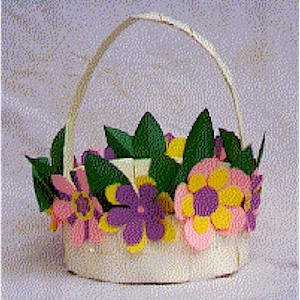 This pretty Woven Flower Basket would be a great craft for kids to make to present a little gift to Mom on Mother's Day.  It is also a great craft for kids and parents to make together.
Trivia:  Basket weaving is one of the oldest crafts known in North America. Some Native American baskets found in the Southwest are believed to be approximately 8,000 years old.
Supplies
18" x 24" Heavy Ivory Paper
Pink, Yellow, Purple and Green Letter Size Paper
Flowers: Print 2 each on yellow, purple, and pink
Leaves: 2 each on green
Tacky Glue
Scissors
Hole Punch (Optional)
Instructions
To make this Woven Flower Basket, cut heavy ivory paper into approximately a 16" circle with a 7" circle drawn in the middle. The inner circle will be the basket bottom. Trim area around this into 1" radiating strips. Bend radiating strips up at dotted lines to begin to form basket side.
Cut about eight 1" x 24" strips out of the same paper. Beginning close to the bottom of basket, weave one of these strips in and out of the radiating strips all the way around the basket. Cut off or add extra piece to complete first woven level. Secure ends with tacky glue. Weave two or three more levels. Fold or cut excess radiating strips even with the top level.
To make the handle, wrap one of the precut strips (we'll call this the core) with another precut strip as shown in the pictures.
Secure ends with tacky glue. Continue with additional strips until the handle core is covered.
Trim ends. Glue to inside of basket.
Cut out flowers and leaves. Printed side will be the back of the flowers and leaves. Bend pieces up slightly on the dotted lines. This will add depth to the flowers. Assemble flowers by layering pieces. Use a small dot of glue in the center of each piece to secure. Punch out small circles with a standard whole punch for flower centers.
Glue the flowers around the basket. Glue on leaves, tucking them under flower petals.
Patterns, Templates and Printables
Click on a pattern to open it in a new window
Tags easy Easter craft for kidseasy kids craftsflower crafts for kidskids crafts