Styrofoam Snowball Ornament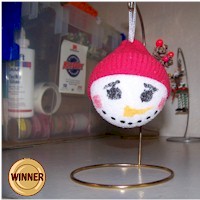 Check out this fun Styrofoam Snowman Ornament from the latest FreeKidsCrafts Contest Winner Rebecca from Howard City, Michigan. She loves to work with her Girl Scout troop and her 3 young daughters and enjoys finding new crafts to do with all her girls.
Supplies
3 inch styrofoam ball
Colored childs ribbed sock (found mine at a dollar store)
Ribbon to hang
Paint ( black, orange, red)
Decoration for hat (optional)
Small rubberband
Low temp hot glue gun
Instructions
Turn sock inside out. Cut sock about 1/2 inch from ribs. Place ribbon inside the sock so that when you turn it right side out the ribbon stick out to hang. I sewed the sock and ribbon with a simple straight stich then gathered the sock together with the rubberband to create the pucker effect on the top of a hat. You can just use the rubberband if doing this with younger children. If sewing make sure not to leave to much extra fabric. Now turn sock right side out and you should have what looks like a hat. Pull sock over styrofoam ball and fold up one side to make the hat. Once you have your hat in place use your hot glue and tack the hat in place all the way around. Now you can paint on your snowmans face ( i used acrylic paint but im sure tempra kids paint would work just as good) Add any decorations to the hat if you like using your hot glue. let dry and hang on your tree to enjoy.
Contributor

FreeKidsCrafts Contest Winner
IT'S A WINNER! Take a look at what one of our talented viewers submitted to share with you. This craft was selected as one of this month's winners to received $50 in craft supplies. Click here to find out how you can enter your original creation for our judges consideration.