Egg Carton Hippo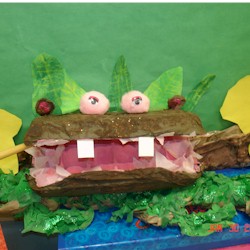 Tasha L. J. Messer, and her "Craft Campers" at the Sagamore Hills Elementary School in Atlanta, Georgia submitted this contest winning Hungry Hippo made from a recycled egg carton. Congratulations!
Supplies
18 Count Styrofoam Egg Carton (Body)
Brown Crayon (Body)
Brown Marker (Body)
Brown Tissue Paper (Body)
Bronze Glitter (Body)
Brown Paint (Body)
Red Paint (Mouth)
White Paint (Mouth)
Pink Tissue Paper (Mouth)
Large Pink Pom-Poms (Eyes)
Large Googly Eye with Pink Eye Lids & Lashes
White Foam (Teeth)
Elmer\'s Glue
Instructions
Color entire outside of the egg carton brown with crayon followed by the marker.
 
Next, smoothly paint over the crayon and marker coloring. Allow to dry enough paint again so that most writing is covered.
 
Drape exterior with brown tissue paper before paint dries completely. Dab top of tissue with brown paint and lightly sprinkle with bronze glitter.
 
Mix the red & white paint together creating a shade of pink that matches the tissue paper and pom pom colors.
 
Use this pink shade to paint the inside of the Hippo\'s mouth (area where eggs usually rest. Then cover with pieces f the pink tissue, layer to your liking.
 
Allow to dry with mouth propped open. While waiting, glue googly eyes to the middle of the pink pom-poms and cut out two foam rectangular teeth. Once everything is completely dry glue eyes on top and teeth in front.
 
Done!
Contributor

FreeKidsCrafts Contest Winner
IT'S A WINNER! Take a look at what one of our talented viewers submitted to share with you. This craft was selected as one of this month's winners to received $50 in craft supplies. Click here to find out how you can enter your original creation for our judges consideration.