Cute Paper Mache Penguin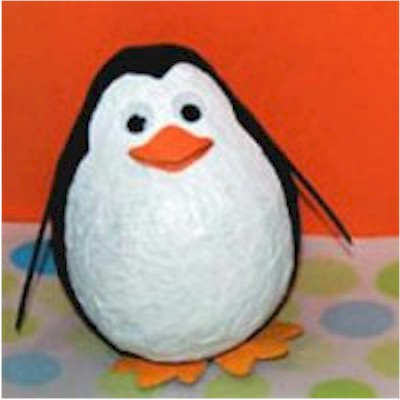 Print This Craft
This cute paper mache Penguin will keep hands busy and provide hours of happy smiles when finished. Paper mache also holds up well so the proud crafter will be able to showcase their project for a long time.
Trivia: Some wild penguin can live 15 to 20 years and they spend up to 75 percent of their lives at sea. Source: The Spruce – 15 Fun Facts About Penguins
Supplies
Balloon
Newspapers
Papier mache paste
Cardboard
White glue
Sand
Funnel
Acrylic paint
Paint brush
Scissors
Masking tape
Wiggle eyes
Black permanent marker
Instructions
Use a balloon to make a papier mache base. The papier mache will dry within 2 to 3 days.
When the papier mache has completely dried, pop the balloon and widen the hole on the papier mache a little bit, just large enough for a funnel to get through (approximately ½ to 1 inch diameter). Remove the balloon latex as well.
Insert a funnel through the hole and pour ½ cup of sand into the papier mache.
The sand will allow the papier mache to balance and stand on its own. If it's still a bit wobbly, add a bit more sand until it is balanced.
Draw and cut out a pair of wings and feet out of cardboard.
Tape the wings and feet to the papier mache body with masking tape.
Papier mache over the hole on top as well as over the areas with masking tape. Allow the papier mache to dry.
Once dry, paint over the whole sculpture with acrylic paint.
Glue on any of these materials for the eyes and mouth
Use wiggle eyes, buttons, flat beads or round paper cut-outs for the eyes.
Contributor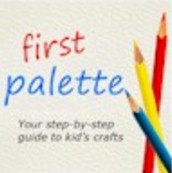 First Palette.com
A free resource for fun and educational kids' crafts, the site features a step-by-step guide for each craft project and includes printable templates, art recipes, and environment-friendly tips for crafting.
Supplies
Instructions
Contributor

Sudbudz
Want to have some creative family time? Print out our SudBudz® Masks and get crafty with the kiddos! More than just a typical Fizzy Bath Ball, SudPrize® is a first ever line of skin-loving and natural bath products that make bath time Fun for Kids and Easy for Moms. A Free companion App, SudBudz® engages your children into an immersive world of special and unique characters called SudBudz®.