Butter Tub Planter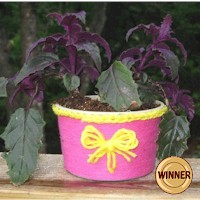 This week's contest winner is Sarah from Haymarket, VA. She is a stay at home mom with two young children. In her words, "I try to recycle as many things as I can as creatively as I can, and involve my children to help spark their imaginations and learn to live earth-friendly lives".
Why buy expensive pots when you can make something lovely and recycle at the same time. This can be as simple or as complicated as the age group involved in the project.
Supplies
Butter Tub
Yarn
Glue
Instructions
Wash/dry tub and lid
Cut holes in bottom
With the pink cotton yarn Iused a brush-on Krazy Glue (Tacky glue or glue gun would work too) to adhere the end of the yarn to the tub, just under the upper rim. You don't need any more glue until you get near to the bottom where it starts rounding under- the yarn starts slipping then. At that point just dab a bit of glue every few inches to help keep it in place until you've gone all the way to the bottom.
With yellow yarn I crocheted a chain that wrapped loosely around the upper rim of the tub and used glue all the way around therim to adhere it there.
And voila! if i had ribbon or twine or anything like that i would try using those too.
Contributor

FreeKidsCrafts Contest Winner
IT'S A WINNER! Take a look at what one of our talented viewers submitted to share with you. This craft was selected as one of this month's winners to received $50 in craft supplies. Click here to find out how you can enter your original creation for our judges consideration.