Funny Face Desserts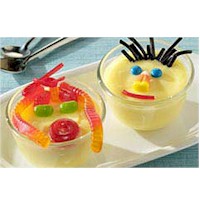 Supplies
2 Cups cold milk
1 pkg. (4-serving size) JELL-O Vanilla Flavor Instant Pudding & Pie Filling
Decorations
Instructions
Prep Time: 10 min
Total Time: 40 min
Makes: 4 servings, 1/2 cup each
POUR milk into medium bowl. Add pudding mix. Beat with wire whisk 2 minutes or until well blended.
SPOON pudding evenly into 4 dessert dishes or plastic or paper cups. Refrigerate at least 30 minutes or until ready to serve.
MAKE faces on pudding with decorations just before serving.
Contributor

Kraft Foods
For over two hundred years, many companies have united to make Kraft Foods what it is today. Check out their heritage page and learn the many companies that comprise the Kraft family of foods.
Tags food
Newsletter
Subscribe to our free newsletter to get creative crafts mailed to your inbox.