Footprint Snowman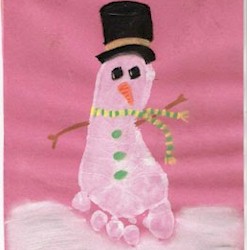 Supplies
White Paint
Colored Markers
Colored Paper
Instructions
To make this adorable Footprint Snowman, place a white footprint on a piece of colored paper. When it dries, paint or draw on a hat, scarf, carrot nose, coal eyes, buttons, and arms.
Contributor

Handprint and Footprint Art
Amanda (a.k.a. Artsy_momma) of Handprint & Footprint Art is dedicated to teaching creativity and encouraging imagination in children. You will find craft ideas for creating handprint, footprint, and fingerprint art- everything from keepsakes to holiday art as well as just for fun crafts!
Newsletter
Subscribe to our free newsletter to get creative crafts mailed to your inbox.