Colorful Tissue Paper Dragonfly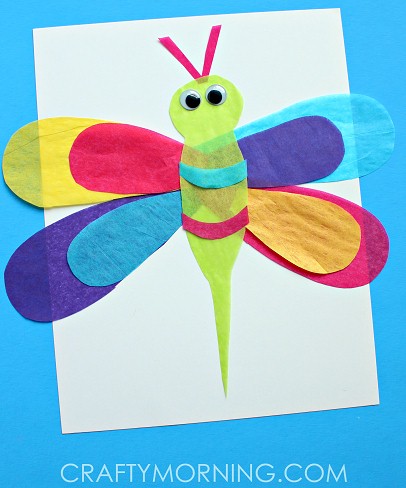 Supplies
Tissue paper
Glue
Scissors
Googly eyes
Instructions
Start by stacking 4 colors of tissue paper on top of each other and then cut out tear drop shapes for the dragonfly's wings. Make smaller ones to put inside the bigger ones too.
Take a paintbrush and spread a thin coat of glue on a white sheet of card stock paper and stick the tissue paper. Add some antennas and googly eyes to finish! Next time I would make the tail part more rounded inside of pointed :-)
Editors Note: Mom might need to make patterns for the young children.
Contributor

SassyDealz.com
"Michelle has a teaching degree and for the love of art she started sharing kids crafts on her blog to inspire teachers, parents, and the little ones! SassyDealz.com is not only a craft website, but also a place where you can find online bargains and freebies!"
Tags dragonfly crafts
Newsletter
Subscribe to our free newsletter to get creative crafts mailed to your inbox.